Rectangular vintage cocoa tin with hinged lid, "De Gruyter's cocoa", Groenmerk
SKU:

BT-4372-23
Rectangular vintage cocoa tin with hinged lid, "De Gruyter's cocoa", Groenmerk
Manufacturer: De Gruyter

Date of manufacture: 1935 - 1945
---
De Gruyter Green brand Cacao
Description
Vintage tin by De Gruyter with a rectangular shape and rounded corners in green with orange details. The tin is fitted with a lid. The lid is normally attached with a pin hinge.
The entire tin features colour images related to cocoa cultivation, picking and transportation from the colonies. On the lid in an oval is a lady at a branch with cocoa fruits. On the front a man with a bowl of cocoa fruits, in the background the sea with a sailboat, a city, mountains and an island with a palm tree. On the back a man with a long stick and the same background. On the left side a man, with the sea in the background with two men in a rowboat, city and mountains. On the right side a man with cocoa fruits, with a sea with a steamship and mountains in the background. Decorated around the corners with tree trunks and above each image various branches with leaves and cocoa fruits.
Inscription on the edge of the lid: "DE GRUYTER'S CACAO", "GROENMARK". Inside the lid written in an oval: "And better value, And 10 per cent, only de Gruyter".
Condition
This De Gruyter cocoa tin is in a vintage condition with various traces of use and age-related traces of wear. Photos are part of the description.
Dimensions
Height: 7.5 cm

Length: 11.5 cm.

Width: 7.5 cm.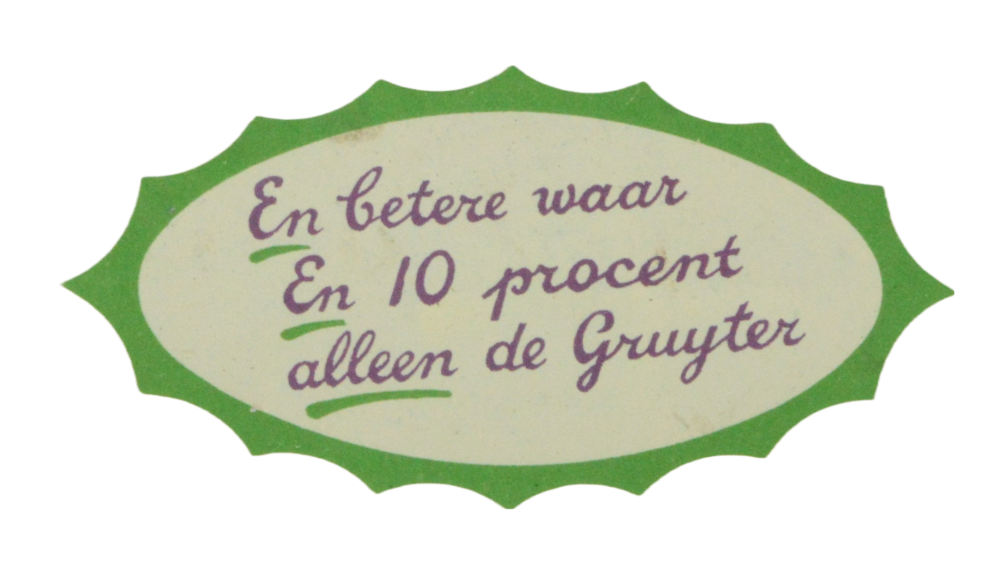 De Gruyter was a retail chain in the Netherlands, in the 19th century and 20th century (until 1976). At its peak, there were more than 550 stores and nearly 7,500 employees.
An important element in the sales policy was the giving of a 10% discount when handing in the receipts. The slogan of De Gruyter was, therefore: And better true and ten per cent, only De Gruyter.
As a customer binder, De Gruyter gave away a small gift for children every week from 1948: the legendary Candy of the week. It was introduced when sugar went off the receipt after World War II and there was too much sugar on offer. With a few guilders worth of groceries, unsolicited candy was given to the children.

Some translations come from an automated system and may contain errors
Country of origin
The Netherlands - Holland
Kind of object
Vintage cocoa tin De Gruyter Groenmerk
Theme
Cocoa tin - tin - product packaging - container - green mark - groenmerk
Decoration
Figure - man - woman - tree - fruit - flora - boat - ship - vessel - means of transport
Category
Vintage tins
Color
Green - Orange - Multicolour
Publisher
De Gruyter
Manufacturer
De Gruyter
Brand
De Gruyter Groenmerk
Material
Tin - metal - paint
Particularities
Hinged lid
Era
1935 - 1940
Quality
Vintage with traces of use and wear
Height
7,50 cm
Lenght
11,50 cm
Width
7,50 cm
Shipping method
Parcel post with track & trace